Are you still using Office 2010? It may seem like a silly question but many businesses have failed to upgrade Office 2010 and are still reliant on the ageing software.
Office 2010 reached it's 'end of support' date on October 13th 2020. That means no more technical support, no more patches, and no more security updates. So even though it may have served you well over the past decade, it's now definitely time to upgrade.
Software has a typical lifespan. During it's useful life it is tweaked, and patched to ensure it stays secure and relevant. Eventually though the software manufacturer moves on to a new version, and starts putting it's resources into supporting that release.

From October Microsoft no longer provides technical support, bug fixes or security patching for Office 2010. The last bit should be of concern to anyone still using it in a business. Because that means your entire system is vulnerable to viruses, spyware and other malicious software – even if Office 2010 is only on one machine. If you do get in to trouble then there is no phone or chat support from Microsoft (though if you've ever tried to get support then you may not notice much difference!). So, you are on your own.
Of course, Cybercriminals are fully aware that Office 2010 users are vulnerable, and you can be assured they are looking for businesses who still rely on this outdated software. Unpatched software is more easily exploited, and cybercriminals love an easy target.
What Can You Do?
Quite simply it's time to upgrade Office 2010 to one of the never Microsoft Office offerings. You have options. You could upgrade to the latest version of Office as a one-time purchase. Or you could go down the Microsoft365 subscription-based route and get all the latest features, security updates, and other improvements.
Office 2019 is the current version of Office and is available for either PC or Mac. This version can be installed on a single device, and you'll get security patches, bug fixes and phone and chat support for the lifecycle of the product. Office 2019 will go end of life in October 2025. Unlike previous releases Office 2019 will get no enhancements or new features, what you get out of the box is everything you'll ever get.
It's worth noting that Office 2019 was released in September of 2018 and is due to be succeeded by Office 2022 in the second half of 2021.
If you've still to upgrade Office 2010 we'd not recommend waiting for Office 2022, but it also seems wasteful to purchase Office 2019 knowing that a new offering is less than a year away. Therefore, you should certainly consider Microsoft365. M365 gives you all of the familiar Office tools such as Word, Excel, PowerPoint etc. but also provides Office's cloud-connected features across all your devices plus 1TB of storage via OneDrive, mobile apps and many more additional features and tools.
M365 is constantly updated with new features and additional tools. All subscribers get access to these and enhancements to core products. A single licence gives a user access across 5 devices, allowing them to use a laptop, desktops at different sites, a tablet, and a mobile without the need for additional purchases. This reflects the modern way of working.
Is Microsoft365 for Us?
There may be good reasons for keeping things on-premises. There may be compliance or regulatory reasons. Or it may just be that you prefer everything where you can see it. You can still do this with Microsoft365 by using offline versions and having your administrator control updates and patches.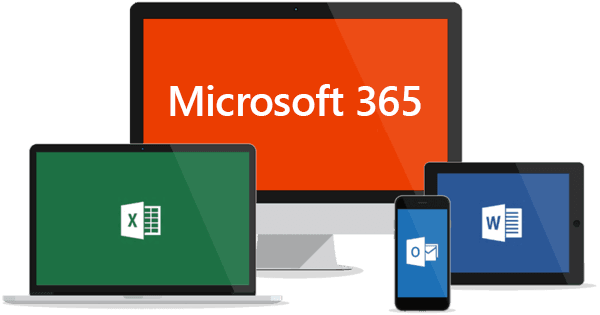 But for many businesses the appeal of M365 is that it's in the cloud. A hybrid setup can even give you the best of both worlds, with elements on-premises and others in the cloud. So, employees would have those familiar tools like Word and Excel installed on their desktops, but files could be stored in the cloud. This makes working remotely so much easier, with individuals able to access documents from anywhere and even collaborate on a document in real time.
A huge addition to M365 is Teams. Teams is a central communication hub for your business. You can enjoy video conferencing, screen sharing, group and private chats, calling and file sharing and collaboration through a single platform.
As a subscription service you always have the latest versions of Office, Exchange and SharePoint and your security is bang up-to-date too. You'll always have the latest versions with no more major migrations or updates.
M365 comes in three different business packages Basic, Standard and Premium. It's best to discuss with your IT department which package, or combination of packages, is best for your business. Each business and each user has unique needs.
One thing is certain: ignoring Office 2010's end date could be costly. Don't risk a disaster. Upgrade your old-school Office software today.
How We Can Help
You may be nervous about having to upgrade Office 2010 and be unsure as to the best route to go down. You could have legacy software and be concerned about how this will work with newer versions of Office or Microsoft365.
The first step is simply to ask us your questions.
You can book a 15-minute call at your convenience. We're happy to answer your questions and share our know-how with you with absolutely no obligation.