Overcoming The Top 10 Challenges Facing Small Businesses in 2019 – Part 4
We recently published a list of the top 10 IT challenges facing small business in 2019.
We are now on part 4 of our posts looking at these challenges in a bit more detail and providing hints and tips on how small businesses can try and overcome these challenges themselves, whilst also showing where fully managed IT support can help.
Part 1 concentrates on overcoming waiting until something breaks, root causes not being uncovered and integration issues. Part 2 concerns itself with backup and disaster recovery issues, whilst part 3 looked at security issues.
Continuing that today we are going to look at the following issues:
Rapid rate of change
Scaling of IT as the business grows
Cost of Technology
Similar problems, with similar solutions
10 years ago, smartphones as we know them today didn't exist. Go back another 30 years and no one owned a computer. Commodore opened the floodgates of home computing in 1980 with the Vic-20. That's a massive amount of progress in a relatively short space of time.
It feels like the rate of technological advancement is accelerating. And that's because it is! Computer chips have become more powerful, whilst costing less. This is the reason a modern smartphone packs so much capability into such a small package.
Realistically we can't predict the future. As a small business all you can do is try and make sure you have a flexible solution, are agile enough to embrace new technologies as they happen and understand what is happening in your industry.
Keeping IT flexible
In 'normal' financial terms IT infrastructure is a poor investment. This is in the main due to the rate of technical change. As technology advances the equipment you buy today is superseded tomorrow, and it's value disappears.
However, in many other ways IT infrastructure is the most important investment in your business. Whilst people might be your biggest asset, they cannot work in most businesses without technology. The right IT solution keeps your business operating and can provide competitive advantage.
As-A-Service solutions provide the flexibility required by small businesses. Office-365 is a fantastic example of an as-a-Service solution. Office-365 is Software-as-a-Service or SaaS. Buying Office 2019 outright costs £249.99 per licence. This provides the desktop version of the popular Office applications such as Word, Excel, Outlook etc. Office 365 for business starts at around £7.90 per month.
The 365 version includes new feature updates, a myriad of additional software, file storage and sharing, security and compliance built-in and much more. The main advantage is low capital expenditure, and the flexibility to add and take away users as and when needed. Buy an Office 2019 licence and if you downsize during a quiet period you've still got the licence., and you've paid the money.
Hardware-as-a-Service
We've covered Hardware-as-a-Service in greater detail in a previous post. It works in much the same way as Software-as-a-Service, no capital outlay with a monthly cost. Whilst it does not quite offer the same month-by-month flexibility of SaaS it is the most flexible way to buy hardware.
With HaaS you would buy a laptop over 3 years at a fixed monthly cost. For a £750 laptop you'll pay around £x per month. At the end of the 3-year period the laptop will be replaced with a new one of equivalent value. This is a great way to ensure you are using up-to-date equipment.
HaaS can be used with all kinds of hardware including desktop PC's and laptops, servers, hardware firewalls, scanners and printers.
Keeping the costs down
The as-a-service model keeps capital expenditure to a minimum. It allows businesses to work out a IT per employee cost which assists in budgeting. If you know that a new member of staff will cost £7.90 per month for Office-365, and £x per month for the hardware you can add this to the other staff costs such as salary, pension, National Insurance etc. This gives you a controlled, budgetable cost per employee per month.
Another way of keeping costs down if budgets are very tight is to use refurbished IT equipment. You may well not need the very latest, highest spec equipment. This is especially true if you've got users who just carry out simple tasks. In these cases refurbished equipment can be perfectly serviceable. Make sure you use a reputable supplier and obtain a warranty to protect yourselves. We can even provide refurbished equipment as HaaS.
Keeping up-to-date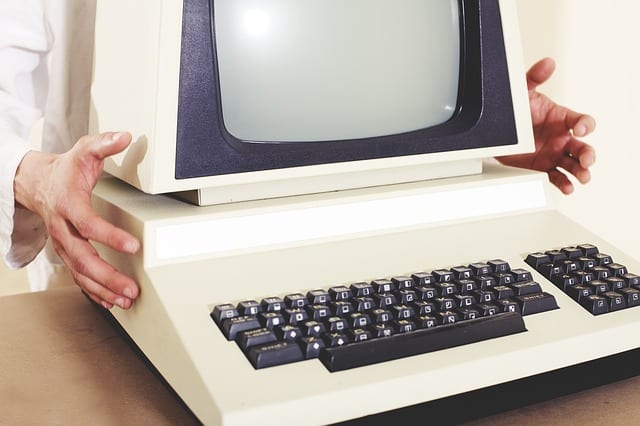 With everything else you are doing in the business it may seem impossible to keep up with the latest technological advances. The good news is you probably don't need to. Your interest is in how technology is impacting your industry and the industry news you will most likely follow anyway will give you all the information you need.
As a small business look to the biggest players in your sector and the technology that they are using. Another recent blog intriguingly titled 'What Have Magpies Got To Do With Technology' talked about the Confederation of British Industry research into adoption of technology by SME's. The research highlights that it is not the very latest, shiniest 'tech' that SME's should be looking at. Smaller businesses should be taking advantage of the proven technologies that are available.
The most important thing to consider is always the 'why'. Replacing equipment just because there is something newer makes no sense. New technology should solve always solve an issue. So, when thinking about new technology start with the question 'why are we doing this?'
How We Can Help
With our managed support solutions we work with our clients to develop an IT roadmap. This document provides an IT refresh plan, looking at the dates when hardware becomes end-of-life. But it goes beyond that to look at what the business wants to do in the future and how technology can assist. It's a key part of the partnership between us and our clients, and means our clients can plan and budget effectively for the future.
If you find yourself experiencing any of our Top 10 IT Challenges for Small Business then do not hesitate to give us a call on 0115 8220200 or Contact Us today. We'd be very happy to help.