As a top-ranked Managed Services Provider in the UK, we are frequently asked about what exactly Managed IT Services are. While Wikipedia's definition of Managed Services as "outsourcing the responsibility for maintaining and anticipating the need for a range of processes and functions to improve operations and cut expenses" is accurate, it doesn't necessarily clarify the concept in enough detail.
In this article, we'll dive deep into Managed IT Services and explain how they differ from other models of IT Support, as well as the various advantages they can offer your business and end users.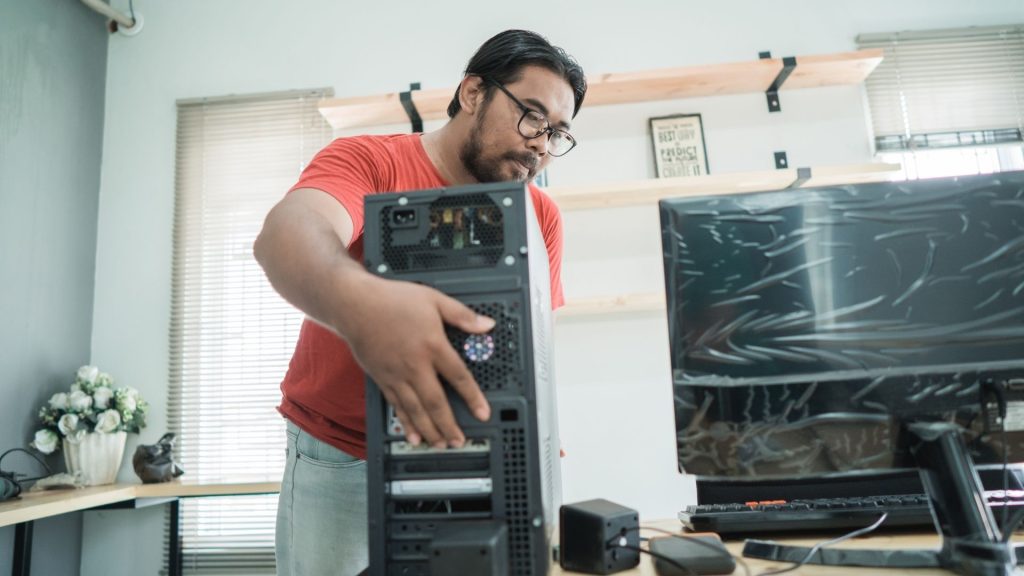 What Are Managed IT Services?
Managed IT services are outsourced IT services that provide ongoing proactive monitoring, management, and support of a company's IT infrastructure. Commonly, services include desktop support, server management, network admin and additional security services. Companies that provide this are usually third-party providers known as MSPs.
With IT, many things often take place behind the scenes. There's updating computers, installing software patches, maintaining everything and looking at ways to improve the IT systems to make a company more efficient. Occasionally IT departments in large corporations will undertake projects, maybe replacing older computers in an entire department or moving some software to the cloud.
Consider everything an internal IT team does, and together that describes the role of the MSP. The difference is that the managed services providers carry out this role for multiple clients and cost less per year than employing an in-house department.
The History of Managed IT Services
The Managed Service Provider model first appeared in the 1990s in the USA. Initially aimed at Enterprise clients, the model was soon adapted when it became clear it would be beneficial to SME's. The 'break fix' approach to IT services had previously dominated the industry but was now being replaced by the MSP model. This service level agreement subscription model promised a consistent, predictable IT service from a single provider, and it was delivered.
The managed service provider model is now a cornerstone of most organisations' IT strategies. Businesses of all sizes have benefited from vast cost-savings and the reliability that MSPs offer, with in-house infrastructure often being replaced by outsourced solutions. It's not hard to see why this model has become so popular – instead of guessing when the next problem is going to arise, you can have peace of mind in knowing that your IT is taken care of by an experienced and reliable provider.
What Kind of Managed IT Services Are Available?
When it comes to managed IT services, the range of services offered by MSPs can vary depending on the size and nature of your business. Generally speaking, though, they will typically provide the following:
Have you ever experienced a cyber-attack? It's not a pleasant experience. An MSP will ensure your company is protected from any potential security issues by providing anti-virus protection and regularly monitoring all devices to ensure they are up-to-date and secure.
Downtime can be a cost-worthy nightmare for any business. Managed service providers can often reduce costs and even prevent technical downtime by monitoring company systems remotely.
Good technology is essential to any successful business, especially in today's digital age. If your technology is not working with you, it's working against you. An MSP can provide strategic advice on the best software for your business needs, as well as providing guidance on how to get the most out of your current technology.
Most MSPs will strive to increase productivity and efficiency by offering cloud solutions. Cloud service providers can scale up if you need more resources and will also help you migrate your data to the cloud.
Having a reliable communication system is essential for any business. Working with an MSP can ensure that your business has the most up-to-date technology, so you can stay in touch with customers, colleagues and suppliers.
How Managed IT Services Can Benefit Your Business
Here are just a few of the ways managed IT services can benefit your business:
Fixed Monthly Cost
First and foremost, Your MSP is a partner. They charge a fixed monthly cost. This means they are invested in your systems and want to ensure they work efficiently.  Unlike break-fix contracts, where you're charged for each individual technical support job, your MSP will be incentivised to ensure problems are stopped before they occur.
Expertise & Rigorous Monitoring
MSPs are experts in their field and have access to a wide range of resources and support from their network of channel partners. They use rigorous remote monitoring tools such as monitoring applications, antivirus software and backup solutions to keep an eye on your systems and prevent potential issues with a proactive approach. Additional cloud services can help store your data securely long-term.
Improved Security & IT Compliance
Managed security services also add improved security and compliance with industry standards. The managed services model involves monitoring all traffic coming into your network, blocking suspicious activity and alerting you if any data appears to have been compromised.
Increased Productivity
A well-managed IT service will result in improved productivity for your business. Your systems will run more smoothly, with fewer outages and disruptions, resulting in increased efficiency and a better long-term overall user experience. A managed service provider can help to reduce downtime, meaning additional cost savings in the event of a technical error.
More Time & Resources
Managed services give you more time to focus on other business areas. As your MSP will care for all your IT needs, you'll have more time and resources to devote to other aspects of the business.
The Cost of Managed IT Services: Factors to Consider
Managed service providers will tend to offer a fixed monthly charge on a per user per month or per device per month basis. These can vary and this is normally due to what is included and excluded from the cost. This can make proposals from different providers difficult to compare.
For example Provider 1 could have a per user per month price of £55. Provider 1 offers a package with inclusive cybersecurity services, this includes End Point Detection & Response with next-gen antivirus, ransomware protection, email threat protection and fraud prevention and a 24/7 Soc.
Provider 2 comes along and quotes £45 per user per month. Provider 2 looks cheaper. However, Provider 2 does not included antivirus, it's offered as a mandatory extra at £5 per user per month. Email filtering is another extra, this is also £5 per user, per month. With these two items added the price is now the same, but you can see provider 1 is offering much greater protection. It's easy to see that Provider 1 offers better value.
This is quite a simple example. Some providers of managed services can be a little more sneaky with their exclusions. They might exclude remote support, that can get really expensive if you need it. Other exclusions can be setting up new machines, rebuilding failed machines, and much more.
Ask to see an inclusions list from each Managed service provider and compare them to see exactly what's included in the service offerings.
Some things should always be in the inclusions list and it should raise a red flag if they are missing. Patch management, remote monitoring, management of cloud services such as Microsoft 365, printer setup and troubleshooting, assistance in procuring new hardware, as well as management of service level agreements and unlimited remote IT support.
Managed Service Providers offering a subscription based model, so you should be pretty certain what you'll be paying for their service each month. Cybersecurity services are increasingly being included in managed services providers contracts as they protect both the client and the MSP.
Other costs that are unlikely to be covered in the main agreement are backup and disaster recovery services, managed print services, and software licences.
Do Managed Services Sound Like They're Right for You?
If you think managed IT services are the right fit for your business, then get in touch with us today. Here at Your IT Department, we're one of the UK's leading providers of managed IT services and have years of experience within the industry.
Call us on 0115 8220200, or if you'd rather we call you, then please complete our Contact Form. We'll get back to you as soon as possible.
We hope that this blog has helped give you an overview of how managed IT services can benefit your business and how much you can expect to pay. If you'd like to learn more about these services, take a look at our blog on  What Is Fully Managed IT Support. With the right managed service provider on your side, you'll be sure to get the most out of your technology and ensure that it's working for you – not against you. Get in touch with us today to find out more about our packages.
Managed IT Services FAQs:
We've answered some of the most frequently asked questions about managed IT services below:
What is Managed IT services?
Managed IT services are when a 3rd party handles your technology needs in a proactive and cost-effective way. These support services include monitoring, maintaining, and troubleshooting any technical issues so that you can focus on your other business goals.
What is an example of Managed IT services?
Managed IT services can include a variety of tasks, such as network monitoring and management, on-site support, cloud computing, software and hardware installation, system upgrades, data backup and recovery, and application development. Cloud services providers specialise in ensuring you data is secure long-term.
What do Managed IT services provide?
These services provide you with peace of mind. By entrusting your technology needs to experienced professionals, you can rest assured that your systems are always secure and up-to-date. Leading to improved productivity and savings by eliminating the need for in-house staff or costly repairs.
What is the difference between IT services and Managed IT services?
IT services typically refer to tasks such as hardware and software installation, setup and troubleshooting. Managed IT services are designed to provide ongoing support for your IT systems through maintenance and the proactive management of your technology to ensure that it is always running efficiently.