In part 2 of our guide to automation tools we look in more detail at Digital Marketing Platforms, Customer Relationship Management, SMS Marketing automation and Internet Automation.
Click here for part 1 were we look at All-In-One Options, Communications and Social Media Management tools.
Digital marketing
Needls provides a service to "automatically create, target and optimize your digital advertising." For $100 per month Needls offers a variety of features, including landing page generation, social media reporting and comprehensive analytics to keep track of your company's digital presence and outreach and your first advertising campaign is free.
Spokal is an inbound marketing platform that can enhance and distribute your content, if your business uses WordPress. Spokal provides advanced content management and SEO tools to ensure your WordPress site is receiving the attention it deserve and integrates with Mailchimp and ActiveCampaign for email campaign and customer retention automation. You can also use Spokal's automated social sharing service to leverage your company's digital presence across social networks.
Customer Relationship Management
CRM helps you organise your prospects, clients, vendors and everyone else you meet in your business. But a good CRM program will also automate processes as your clients move through the sales funnel from target to prospect to customer.
Salesforce is an award winning, market leading CRM system and is used in companies of every size. There are 3 packages available for small businesses ranging from $25 per month for up to five users, to $150 per month for unlimited users. Salesforce features a fully customisable dashboard, so you can set it up to show just what you want to see. As a CRM, the software helps you to track all customer information and interactions in one location to follow more leads. The Lead Management, Marketing Automation, Sales Data, and Partner Management apps let you to follow these leads until they are ready for conversion.
Insightly is an easy-to-use online CRM software that helps businesses not only organise interactions with clients, but also keep track of projects, emails, notes, leads, milestones, and much more. An administrator can create a team and track all members' activity from Insightly's website, or by using the apps for iPhone and Android. Insightly is very easy to use as it is designed specifically for small businesses. and there is a free version that allows for up to three users and 2500 records. The paid version starts at $12 per month per user with an annual contract, and allows 100,000 records.
Zoho CRM lets you see your contacts, pipelines and sales cycles, and automates workflows and repetitive tasks. The free version has just about everything a small business needs –workflow automation, contact management, lead generation, social collaboration, analytics and more, for up to 10 users. Its deep Google G Suite integration also makes it a natural choice if your organisation uses those tools for email and calendaring, and the newly redesigned user interface (UI) gives the platform a much-needed facelift while greatly improving the overall navigability and CRM experience. The paid version starts at $12 per user per month.
SMS Marketing Automation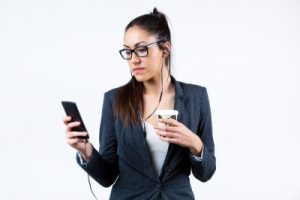 TextMagic is an Application-to-Person (A2P) service that provides businesses with bulk text messaging service, including automated messages. TextMagic have a lot of convenient features including email conversion into SMS, two-way SMS chat online and texting directly from your businesses app. They offer a free trial, and after that it's a pre-paid service at £0.040 per text (yes, a price in actual pounds and pence!) with no contract or tie in. A helpful blog and lots of free tools are also available.
EZ Texting gives you all the tools you need to try text marketing risk free with a free version that lets you send up to 500 messages/month and a pay-as-you-go plan with no monthly fees. EZ Texting boasts advanced tools to reach your customers with automated drip campaigns and polling. Unlike a traditional mailing list, where you send the same message to everybody, drip campaigns let you send different messages depending on how long customers have been signed up. For example, you could set it up to send a welcome message right after customers sign up, a 10% off coupon after 2 weeks and then another coupon for a free item after a month.
Internet automation
IFTTT (an acronym of sorts for "if this then that") is one of the most streamlined automation tools available on the Web. You create 'recipes' that perform specific actions based on predefined triggers. For example, you can create a recipe that automatically adds contact information from email into an Excel spreadsheet. While the service is perhaps better known for personal home automation, it is also a powerful business automation tool. Currently, there are over 240 third-party app connections – known as channels – to automate your business across the Web.  IFTTT is a completely free model and no aspect can be enhanced by paying even if you wanted to. This doesn't mean that you're getting a perfect service, however. You can store and run your recipes for free with no worry, although to link multiple accounts to your integrated apps, you'll need an entirely new account. Similarly (and probably due to being free), your recipes are limited in that they are not constantly or immediately executed – there can be a 15-minute delay for IF recipes to fire, or for the action of a DO recipe to save and transfer to the chosen app.
Zapier is very similar to IFTTT in that it automates actions across third-party apps and services. However, Zapier's focus is on business services rather than personal and home automation. You can configure Zapier to access multiple accounts on the same service such as Twitter or Microsoft Office 365, and create robust automated workflows known as zaps. Zapier stands true to its business focus and comes with several pricing plans, from completely free, up to $125 per month. As you would expect, the 5 plans off more features as they grow in price: 0$ per month allows you to save 5 zaps, leaves 15 minutes between trigger checks and allows 100 tasks per month, whilst $125 gives you 125 zap save slots, runs check every 5 minutes, allows 10,000 tasks per month, etc.
We haven't used everything on the list so these are not recommendations and we'd suggest you do your 'due diligence' via review sites etc. and take advantage of free trials before parting with your money but get automation right and you can save bags of time and really enhance the professional look of your SME.