We are sad to announce that one of our team will be leaving us today.
Support Engineer Kieran Sheppard has taken the decision to go to Lincoln University and follow a three-year BSc (Hons) Physical Education and Sport course.
Kieran joined the Your IT team as an apprentice back in 2015 and it's fair to say that he has gained considerably in confidence, skill and knowledge in his time with the business – culminating in his award as the first ever Your IT 'Hero of The Month'.
He is currently also the only ever winner of 'Hero of The Month' as he subsequently broke the trophy and earned himself a slightly different title which we won't repeat online!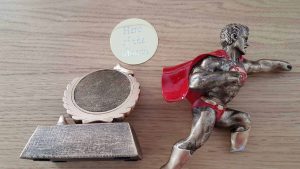 We know our customers will miss Kieran as he receives extremely positive feedback including the comments below taken directly from our SmileBack system:
"Kieran sorted out a few issues quickly and promptly with the minimum of fuss, always a pleasure to deal with Kieran who is really helpful and friendly – thanks!!"
"The response from Kieran was swift and effective"
And our personal favourite
"Kieran just spreads the love!" – not quite sure what kind of support he'd been offering here!
Since we started using SmileBack in February Kieran has actually NEVER received negative feedback – which is pretty impressive!
Equally, he will be missed by his colleagues as can be seen by the comments in his leaving card, a small selection of which we reproduce below:
'Good riddance'
'Bye'
'Leave already – you've been dragging this out for weeks'
These are the ones that can be reproduced on a family website!
Whilst he will be missed by both colleagues and customers, and we all object to tax payers' money being used so that he can do PE for three years, we want to take this opportunity to thank Kieran for his work whilst with Your IT and wish him all the very best for the future.