We've recently focused on a couple of office moves carried out for clients Linear Recruitment and All About Bricks. However, there are many other projects that we get involved in here at Your IT. One of our most popular services is Office 365 for Business and here we highlight how one of our clients has used Office 365 to solve its email issues and improve IT efficiency across the business.
As part of our fully managed contracts we are constantly reviewing the issues facing clients and suggesting improvements. One customer experiencing some issues was AM Norris, one of the East Midlands leading suppliers of heating and plumbing services.
Sally Marsden, Purchasing Manager for the business takes up the story, "Your IT Department have been our IT Support Company for just over a year and we've been delighted with the service. However, we had been having constant issues with our emails which were using a system that was no longer fit for purpose."
The email service being used was a POP/IMAP system and was a legacy system from before Your IT's involvement. When we had onboarded the client it had been identified that this system would require upgrade in time. However, we'd seen a steady increase in tickets from staff with email issues. As we monitor trends it was clear that the time had come for change.
It was important that we found the correct solution. Something that was reliable and could scale with the business. Sally, comments "Your IT talked us through a number of options and we decided to go with Office 365 for business as our solution."
Our first reason for suggesting Office 365 for Business was its reliability. All Office 365 subscriptions include a reliability guarantee of 99.9% uptime. Microsoft publish their quarterly uptimes on the Trust Centre to show exactly how they are performing.   There are also advantages in increased security, whilst the ability to access email remotely was important to the client.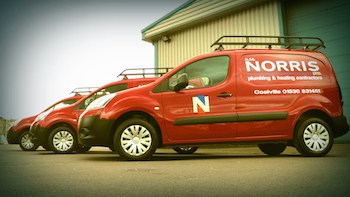 Migration
Norris are a substantial business with a significant number of employees so the migration was a large scale undertaking. We implemented the project on a phased basis undertaking as much work as possible outside of normal office hours. During normal working hours, we worked in the background to minimise disruption and downtime.
Sally concludes "I can't praise Your IT highly enough; the migration went smoothly, and everything was done out-of-hours to minimise disruption. The solution is working fantastically, and we've really noticed the difference, no more issues!
Thanks Your IT for solving a long term problem and the professionalism and communication throughout the project."
Is it time you moved to Office 365 for Business?
Your IT Department have vast experience in migrating businesses large and small to Office 365.
Office 365 for Business is a subscription-based service, meaning you pay a low monthly fee (per user) rather than a large lump sum up front. This can be helpful from a cash flow perspective. Plans are typically paid month-to-month. This provides great flexibility as you turn off what you're not using to save money.
Office 365 provides enhanced collaboration tools, so that everyone who needs to contribute to or edit a document (or spreadsheet, or presentation, etc), can work on the same version (and get real-time changes) rather than having multiple version floating around that have to be combined.
One of the biggest advantages of Office 365 is the ability to work from anywhere with an internet connection. Because it's entirely cloud-based, you can access your email, files and Office programs (Word, PowerPoint, Excel) from any location and any device. This is especially helpful for companies with remote employees, multiple locations or those with employees who travel a lot.
With Office 365 for Business, you always benefit from access to the latest versions of Office at no additional charge. You'll get the latest and greatest features without having to uninstall and reinstall Office on everyone's machines. In addition, Microsoft is constantly making upgrades to features across programs – you'll get access to those, too.
To find out more about how Office 365 can enhance your business please call 0115 822 0200 or complete our contact form for a call back.