Phishing Simulation & Security Awareness Training
Staff Training is Your First Line of Defence
Employees are your first line of defence against cyber attack. Unfortunately, in reality, they often prove to be the weak link. Human error caused 90% of UK cyber data breaches in 2019, according to a CybSafe analysis of data from the UK Information Commissioner's Office (ICO).
Trained and aware employees are critical to securing an organisation. An effective, ongoing internal security awareness program can help reduce your company's vulnerability. This can turn the "weakest link" in your cyber defences into its greatest strength.
Phishing Simulation and Security Awareness Training go hand in hand. Phishing has become very sophisticated as criminals have found ways to make their emails as realistic as possible. Making sure your people stay up-to-date with cyber security knowledge, and teaching them to recognise threats, is imperative to the security of your business.
Simulated Phishing Attacks
Phishing simulations test employees on how they would respond to a real-life phishing attack.
These mock attacks can be sent at staggered times. This avoids the risk of employees warning one another of the email. This ensures you get the best measurement of individuals awareness.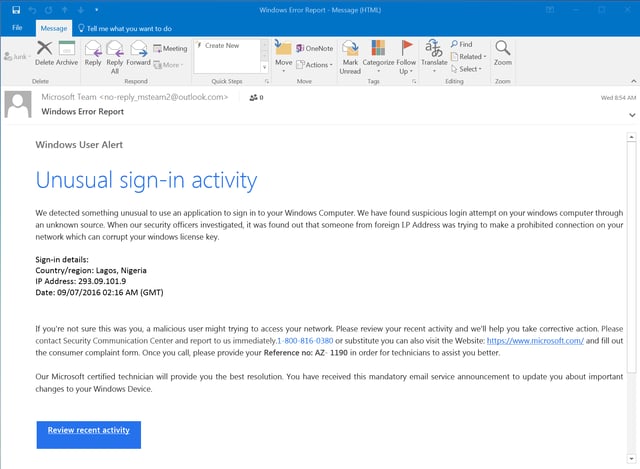 You can track which employees have clicked on a phishing email, who has given away their password and who has ignored the email.
We can send scheduled phishing campaigns throughout the year, meaning you are constantly testing employees knowledge. This can include customised messages to fit each group or department, at random times during a specified period. The threat environment is ever changing. Training is most effective when employees are exposed to all the latest phishing traps set by criminals
Security Awareness Training
Whenever a simulated phishing attack is triggered, an educational video is delivered to the user.
These easy-to-understand, short and visually engaging training videos include an online quiz to verify the employee's retention of the training content.
Regular training reinforces the importance of every employee's role in protecting your business.
To find out more please contact us for further information or a Free Cyber Security Assessment.
Find out if your business would benefit from an assessment with our eBook 'Does Your Business Need A Cyber Security Assessment'
FAST

RESPONSE

15-minute response time

NO

LONG-TERM CONTRACTS

Low Risk & Complete Flexibility

CLIENT

FOCUSED

An Extension of Your Business