What A Year!!
2017 has been a great year for Your IT Department. We've had lots of change, with new premises and new staff as the business continues to grow.
However, it is fair to say that when looking back over the year in general then things have been much less positive. Terrorism, Trump, Brexit and disasters both natural and man-made have dominated the news in 2017.
Here we look back on our year and some of the biggest stories of 2017.
January
Your IT started the year announcing the appointments of Account Manager, Angus Unwin-Rose, Engineer, Adam Hughes and Craig Pearson as Marketing and Business Development Manager.
We also revealed that we would be sponsoring the Creative Business of The Year category at the Nottingham Post Business Awards and that we would be exhibiting at the Love Business East Midlands Expo.
In World News…..
UK car sales were at a record high in 2016 according to the Society of Motor Manufacturers and Traders (SMMT), which says that 2,690,000 new cars were registered last year, 2% higher than in 2015.
Donald Trump is sworn in as the 45th President of the United States.
February
Our big move took place in February, leaving serviced offices to move into our own premises at 8 Farrington Way, Eastwood with the Nottingham Post, East Midlands Business Link, and The Business Desk all running stories on the move.
We had a fantastic show at the Love Business Expo and were delighted to present Sarah Robinson, Managing Partner of Premier Legal, with a Samsung Galaxy Tab as the winner of our Expo Prize Draw.
We also revealed our new, refreshed logo.
Finally, towards the end of the month, we announced two more new appointments – Peter Marsden and Damian Joel joining the team.
In World News…..
Protests are held in London and other cities across the UK, as MPs debate whether the new US President Donald Trump should be given a state visit.
North Korea prompts international condemnation by test firing a ballistic missile across the Sea of Japan.
Lincoln City F.C. become the first non-league team to reach the FA Cup quarter-finals for 103 years with a 1–0 victory over Burnley
March
A record-breaking month for Your IT as we brought on a record number of new customers in March, and also achieved a 98% customer satisfaction score.
We settled into our new home and got the new, refreshed branding up on signs around the building
In World News
The new twelve-sided £1 coin is released.
Four people die and at least forty others are injured in what is treated as a terrorist attack in London, when a male car driver, later identified as Khalid Masood, ploughs through pedestrians on Westminster Bridge before stabbing PC Keith Palmer to death at the Palace of Westminster. Police later shoot Masood dead. In response, the Houses of Parliament are placed in lockdown for four hours, as is the London Eye and Whitehall, and the devolved Scottish Parliament suspends a debate on a second Scottish independence referendum.
The United Kingdom invokes Article 50 of the Treaty on European Union, beginning the formal EU withdrawal process.
April
Our Account Manager, Angus Unwin-Rose, announced he would be running the Leicester Big 10k to raise money for the Meningitis Research Fund – going on to complete the run and smash his sponsorship target.
We also welcomed two interns from Nottingham Trent University, who undertook a fantastic short-term project for us and became very much part of the team!
The month ended with more good news as we were shortlisted for the 'At Your Service Award' at the Small Awards, sponsored by Facebook.
In World News…..
In response to a suspected chemical weapons attack on a rebel-held town, the U.S. military launches 59 Tomahawk cruise missiles at an air base in Syria. Russia describes the strikes as an "aggression", adding they significantly damage U.S.–Russia ties.
In the 2017 Nangarhar airstrike the U.S. drops the GBU-43/B MOAB, the world's largest non-nuclear weapon, at an ISIL base in Afghanistan.
Prime Minister Theresa May calls a snap general election for Thursday 8 June.
The UK's Anthony Joshua becomes WBA World Heavyweight Champion after beating Ukraine's Wladimir Klitschko at Wembley Stadium.
May
Another busy month as we appointed experienced engineer Josh Stevenson and two apprentices, meaning the IT Support Team had increased by 50% in just 6 months.
We also announced the inaugural winner of our Hero of The Month award
The month ended with both the Nottingham Post Business Awards and the Small Awards ceremony in London. Hallam Internet were the winners of the Creative Business of the Year award, sponsored by Your IT, whilst we missed out on the 'At Your Service' award to Busy Books from Wiltshire, who also scooped the main award on the night.
But we did get a photo with Sue Perkins!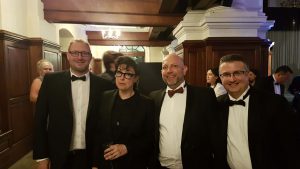 In World News….
Computers across the United Kingdom are hit by a large-scale ransomware cyber-attack, causing major disruption.
Manchester Arena is attacked by a suicide bomber following a music concert by American singer Ariana Grande. 22 people, many of them children and teenagers, with multiple casualties. It is the most deadly attack in the UK since the 7 July 2005 London bombings and the first in the North of England since the IRA bombing of Manchester in June 1996. The UK's terror threat level is raised from "severe" to "critical", its highest possible level, for the first time in ten years; meaning not only is an attack being highly likely, it is "expected imminently".
British Airways experiences a global IT system failure, causing severe disruption to flights worldwide.
June
After the madness of May, June was a little quieter. However, we were able to share the results of our photoshoot, whilst we kicked off our series of Meet The Team posts with our MD, Lee Hewson.
The biggest news of the month was undoubtedly Lee hitting the big 4-0 and the team indulging his hobby by buying him a state of the art remote controlled car!
In World News…..
A series of cyberattacks using the Petya malware begins, affecting organizations in Ukraine.
Seven people are reported killed and 48 injured in an attack by three Islamist extremists at London Bridge.[97] A hit-and-run vehicle on the bridge is followed by knife attacks at Borough Market. All three perpetrators are shot dead by police within eight minutes.
In the general election 2017: The Conservatives remain the largest party, but fail to get enough seats for a majority, leading to a hung parliament. In a surprise result, they are reduced from 330 to 318 seats. PM Theresa May rejects calls for her to resign and attempts to form a coalition with the DUP, which would give her 10 additional seats. Labour gain 32 seats, with particular success in London; the SNP suffers heavy losses with 21 fewer seats; the Liberal Democrats gain four seats for a total of 12; UKIP lose their sole seat and Paul Nuttall resigns as party leader.
A major fire engulfs Grenfell Tower in West London, with 71 fatalities eventually officially confirmed (16 November) and more than 70 people taken to hospital.
An ongoing heatwave is reported as the first time that an area of the UK has reached over 30 °C for five consecutive days in June for more than twenty years.
The UK experiences its hottest June day since 1976, with a temperature of 34.4C (94F) recorded at Heathrow Airport.
July
July brought news of another award shortlisting for Your I.T.! Further recognition of the excellent service provided by the company came from the East Midlands Chamber of Commerce as Your IT were shortlisted for the "Excellence in Customer Service" category at the 2017 Business Awards.
In World News…..
Lewis Hamilton wins a fifth British Grand Prix fifth career Grand Slam. His fourth back to back win at his home race. Additionally, equalling Alain Prost and Jim Clark.
The government announces that a rise in the State Pension age to 68 will be phased in between 2037 and 2039, rather than from 2044 as was originally planned. This will affect 6 million men and women currently aged between 39–47 years old.
Organisers cancel the Sunday leg of the Y Not Festival in Derbyshire after heavy rainfall throughout the weekend leads to excessive mud and adverse conditions on the festival site.
Russia and China urge North Korea to halt its missile and nuclear programs after it successfully tested its first intercontinental ballistic missile.
August
This month saw some exciting news from Your IT as we made our first moves into sponsorship of some local sporting teams. We announced sponsorship of Hinckley Rugby Club, becoming post pad sponsors, Andi Bell, striker with Derby County Ladies FC and Alfie Potter of Mansfield Town FC.
In World News…..
Hurricane Harvey strikes the United States as a Category 4 hurricane, causing catastrophic damage to the Houston metropolitan area, mostly due to record-breaking floods. At least 90 deaths were recorded, and total damage reaches $198.6 billion (2017 USD), making Harvey the costliest natural disaster in United States history.
The chimes of Big Ben fall silent as a four-year renovation of the building begins.
September
September saw some impressive performance from our sporting partners as the seasons got underway. Andi Bell grabbed a hat-trick as Derby County Ladies hit Rotherham for seven in the cup, whilst Hinckley beat Blaydon, Huddersfield, and Leicester Lions to record an impressive start to the season. Mansfield were a little more inconsistent but did run out comfortable 4-1 winners over Grimsby.
Whilst we had a great evening, unfortunately, we were unsuccessful in the Chamber Awards Customer Excellence Awards; but we will be back in 2018!
The month ended with us announcing it a Super September, achieving a Net Customer Satisfaction Score of 97.8 and receiving just 1 negative response from 134 reactions. https://www.your-itdepartment.co.uk/news/satisfaction-guaranteed/
In World News…………..
The Caribbean and United States are struck by Hurricane Irma, a Category 5 hurricane that is the strongest hurricane ever recorded in the Atlantic basin outside the Caribbean and Gulf of Mexico. The storm causes at least 134 deaths and at least $63 billion (2017 USD) in damage.
Eleven days after another powerful earthquake, and on the 32nd anniversary of the deadly 1985 Mexico City earthquake, a Mw 7.1 earthquake strikes central Mexico, killing more than 350 and leaving up to 6,000 injured and leaving thousands more homeless.
Just two weeks after Hurricane Irma struck the Caribbean, Hurricane Maria strikes similar areas, making landfall on Dominica as a Category 5 hurricane, and Puerto Rico as a Category 4 hurricane. Maria caused at least 94 deaths and damages estimated in excess of $103 billion (2017 USD).
A new £10 polymer banknote is released, featuring Jane Austen.
Transport for London (TfL) announces that ride-hailing app Uber is "not fit and proper" to operate in London and will not have its licence renewed.
October
This month saw us the Lucky recipients of a free press release from local PR Agency, Poppy PR. Our release focused on our partnership with Andi Bell and Derby County Ladies and we received coverage in a number of papers and websites including the Derby Telegraph and The Eastwood Advertiser.
As well as featuring in the local press, Bell also hit a hat-trick as Derby came from 2-0 down with just 3 minutes to go against Bradford to win 5-2 in extra-time in the Womens Premier League FA Cup. https://www.your-itdepartment.co.uk/news/bell-hat-trick-derby-complete-remarkable-come-back/
In World News…….
Fifty-eight people are killed and 546 injured when Stephen Paddock opens fire on a crowd in Las Vegas, surpassing the 2016 Orlando nightclub shooting as the deadliest mass shooting perpetrated by a lone gunman in U.S. history.
Monarch Airlines, the UK's fifth biggest airline, is placed into administration.
Round £1 coins cease to be legal tender in the UK.
Revised figures from the ONS indicate that Britain is £490 billion poorer than previously thought, and that the country no longer has a net reserve of foreign assets.
The England national under-17 football team win the FIFA U-17 World Cup for the first time after beating Spain by 5 goals to 2 in the final.
Catalonia declares independence from Spain, but the Catalan Republic is not recognised by the Spanish government or any other sovereign nation.
November
Expecting things to slow down in the lead up to Christmas we actually had the most new leads of any month in 2017, keeping the sales and marketing team extremely busy!
Hinckley hit top spot in the RFU National League 2 North and hit the headlines after bringing the posts crashing down. The video of the scrum snapping the posts went viral and featured on Good Morning Britain, the BBC Sport Website, The Guardian Sport website and TV stations as far afield as New Zealand!
In World News…………
The Bank of England raises interest rates for the first time in 10 years, from 0.25 to 0.5%.
5 November – A huge new leak of documents known as the Paradise Papers is reported by the BBC's Panorama programme, revealing how the wealthy and powerful, including the Queen's private estate, invest offshore.
The Queen and Prince Philip celebrate their 70th wedding anniversary.
27 November – Prince Harry announces his engagement to American actress Meghan Markle.
Zimbabwean President Robert Mugabe is placed under house arrest, as the military take control of the country. He resigns six days later, after 37 years of rule.
A Leonardo da Vinci painting, Salvator Mundi, sells for US$450 million at Christie's in New York, a new record price for any work of art.
December
And so, we arrive at the end of the year!ange has happened, but we've been delighted with the consistent improvement in customer satisfaction ratings over the past 12 month. Our final quarter CSAT Score of 98% has seen us receive just 3 negative scores out of 354 reactions! This is 3.6% up on the previous quarter as shows that our commitment to continual improvement is paying dividends.
We've greatly enjoyed working with our sporting partners, seeing Hinckley hit top spot in the league and the national news has been a real highlight. We'll be looking to strengthen links with Derby Ladies for next season when we hope they might be operating at a higher level, whilst we'll be adding to our sponsorship portfolio early in the new year – watch this space!
We'll also be looking to expand the team again, early in the new year. Adding to both the technical and sales & marketing teams as we continue to grow the business.
2017 has certainly been a great year for Your IT, and we'd like to thank all of our customers and partners for the huge part they've played in it, but we expect 2018 to be even bigger and better!
HAPPY NEW YEAR!