New features coming to Microsoft Outlook on the web
Last month Microsoft announced that there will be "exciting" updates coming to the web version of Outlook in Office 365. There will be new features to help users be more organised, manage their calendar better, and will have an improved interface (UI).
The new Action toolbar is providing fast access to the most common commands, and will be available across the Mail, People, Calendar, and Task experiences in Outlook on the Web. This has been added to help users work more efficiently, with the new and less messy UI. It's also changed the Calendar, as there's more prominent buttons to make things clearer and easier. The email subject line also stands out more as it is bigger, and messages in the reading pane are now easier to read.
Outlook on the web will now provide the ability to rotate and edit images, add borders, resize images, etc. There's even emoji's! Emailing is now less boring 🙂
Microsoft have also made it faster and easier to find the people that you want to email. As you begin type in the recipient line, Outlook will show you the list of people who are matching your search so far. Also, when you hover your cursor over the recipient line, Outlook will show you a list of the most common groups and people that you have been emailing.
There has also been a lot of improvements to the calendar. Calendar now supports a number of charms icons that you can apply to calendar items so that you quickly know just from looking what type of events are in your calendar. For example, if you had a concert to go to, you could add the music notes. You can also create email reminders for any events that you have in your calendar. There's even birthday and holiday calendars to help with your personal life. There is also a five-day weather forecast inside your calendar!
Microsoft have also added new tools to help you go through your emails and see which emails are the most important to look at first.
– You can now pin a message that's in your inbox, and it will stay at the top of your emails, and will be highlighted in yellow.
– Sweep is giving users a list of actions to manage emails from specific senders. For example, you can erase all messages from a specific sender, or another thing that you can do is only keep the latest message from a specific sender.
– There is now an undo button so that if you make a mistake it's not permanent!
– Microsoft have brought us one-click archiving that allows you to move messages fast out of the inbox into another folder.
– Say good bye to pop-up windows! When in single line view, clicking a message will now display the message in the same window.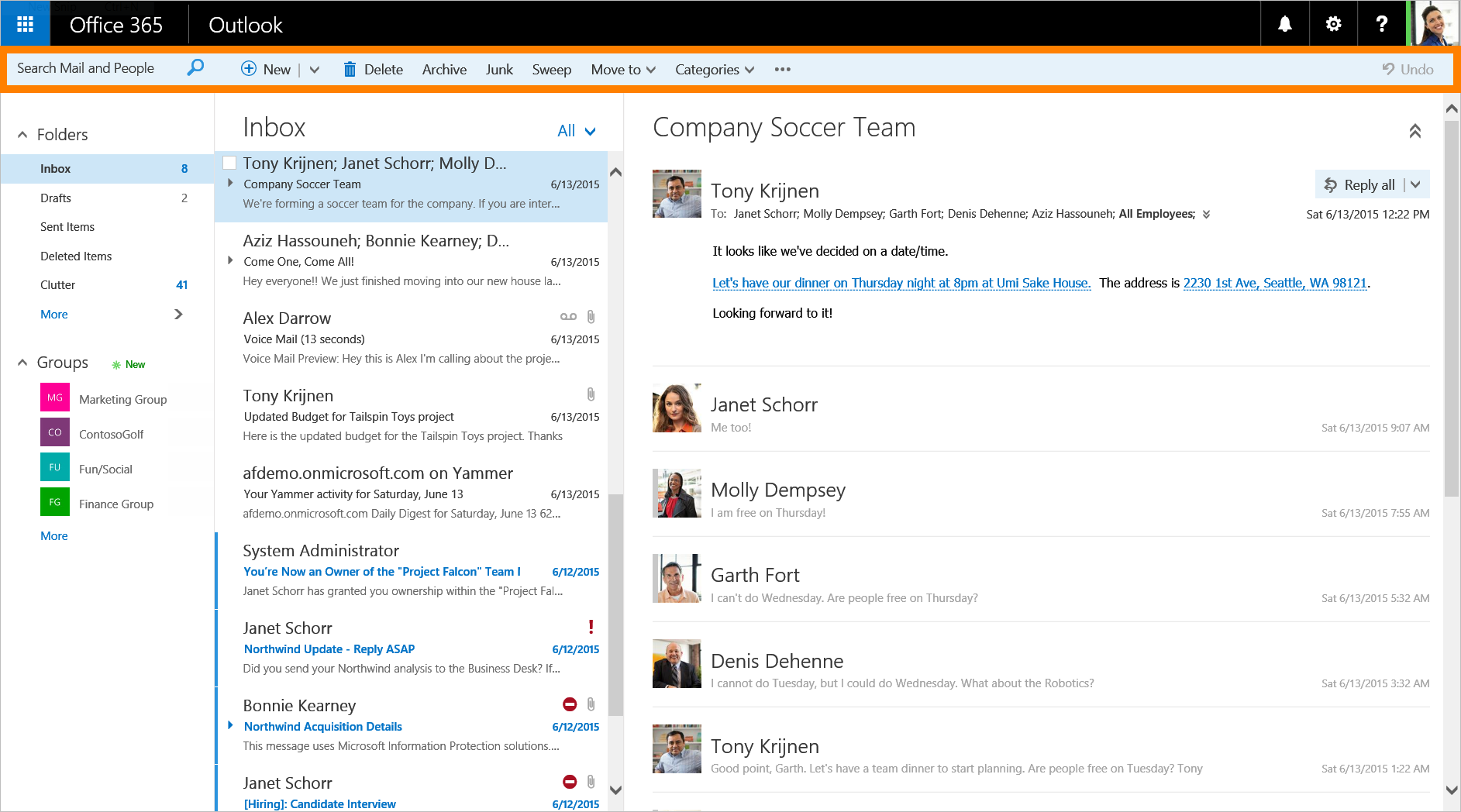 (Thank you to Microsoft for the info, and the update!)