Getting more from Microsoft Outlook
Millions of us use Microsoft Outlook to manage email, contacts and our calendar. It's a really useful piece of software but few of us really make the most of its features. Learning a few simple tricks can help you work more effectively and save you time. We've listed 10 of our top tips that will support you in getting more from Microsoft Outlook.
Outlook tip 1. Spare yourself repeated typing with Quick Parts
If you regularly need to use a passage of text you can save it as a Quick Part for easy insertion into your emails. Whilst composing an email highlight the text and then switch to the Insert tab, click the Quick Parts drop-down and select "Save selection to Quick Parts gallery". In future, when you start typing the phrase, you'll see it pop up as a suggestion – hit return to insert it in full. You can also select your text with the mouse from the Quick Parts drop-down. Right-click on it for placement options, or to edit and manage Quick Parts and other "building blocks".
Outlook tip 2. Write a message to be delivered at a future time
If you have some news that you don't want to share immediately, Outlook lets you defer delivery until a specified time. Compose your email, then switch to the Options tab and click 'Delay Delivery'.
This opens a window with a "Do not deliver before:" field; enter the date and time you want the email to be sent, then click Close. After you hit Send, the message will be held until the specified time. If you're using an Exchange server, you can now close Outlook; if you're using POP or IMAP you'll have to leave the application open until the specified time for delivery has passed. Now you can send that email giving everyone a pay cut after you've gone on holiday!!
Outlook tip 3. Group messages by…
If you receive a large number of emails, finding relevant messages can be difficult. Outlook can group emails into conversations so that a single click shows all related messages together. You can set this on a global or per-mailbox basis by going to the View tab and ticking "Show as Conversations". Click the "Arrange By:" bar at the top of the message list and select "View Settings…" from the drop-down menu to configure additional grouping options.
Outlook tip 4. Filter emails to find relevant messages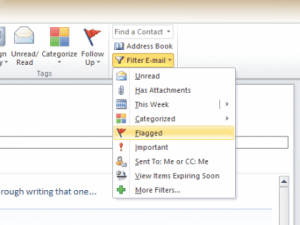 A quick way to find specific emails is to use the Filter Email drop-down at the far right of the Home tab. Choosing a menu option instantly filters your mailbox display to show only certain types of emails, such as those with attachments, those dated within a specific time period etc. Within your filtered view, you can type into the regular search box to drill down further. For more search options, you can select "More Filters…" from the drop-down to make the Search Tools tab visible: here you'll find additional settings, as well as the Recent Searches drop-down that lets you repeat recent searches with a single click.
Outlook tip 5. Automate recurrent tasks with Quick Steps
If you find yourself regularly performing a task – such as inviting a group of recipients to a meeting or forwarding an incoming email to a colleague – then Quick Steps can really save you time. There is a set of predefined Quick Steps in the middle of the Home tab, but the real power of the feature comes in making your own. Click the drop-down arrow and select 'New Quick Step' to create a custom sequence of actions that can categorise, move, flag and delete messages with a single tap of your mouse. Clicking on "Manage Quick Steps…" opens a dialog from which you can duplicate and edit shortcuts, so you can create a range of variations on a theme.
Outlook tip 6. Sort your mail with Rules and Conditional Formatting
The Rules drop-down in the Move section of the Home tab provides options to create and manage rules for automatically processing messages as they arrive. If you select a message before clicking, it will offer to create a rule affecting similar messages. Select Create Rule and you'll be given the option to set all sorts of criteria to check for – sender, recipient, size, date and more – and choose what should happen to matching emails.
A similar feature is Conditional Formatting, which you'll find under View Settings on the View tab. This doesn't move or process messages, but it displays emails matching certain criteria in a specified font and colour, so you can instantly spot them in your inbox.
Outlook tip 7. Automatically clear out unneeded messages
If you want to save space or tidy up an email trail, the Clean Up tool can help. It analyses a complete email conversation and deletes any messages that have been quoted in their entirety inside a subsequent message – the logic being that you can still see what's been said by checking subsequent messages.
You'll find the Clean Up drop-down on the Home tab. From the drop-down choose whether you want to tidy up a single conversation or a whole folder. Click the Settings button in the alert that opens to choose what sort of messages should be culled and what should be left alone.
Outlook tips 8. Delegate access to your mail and calendar
If you're going away, you can temporarily let someone else manage your inbox and appointments. To set this up, open the File tab, then click the Account Settings drop-down and select Delegate Access. Click Add and enter the name of the person (or people) to whom you want to grant access. You'll see a set of drop-downs for permissions: by default, your delegate can access and update your calendar and task list, while email and contacts remain private.
There are some things to consider – your delegate must be using the same version of Outlook as you, and the items you want them to access must be stored on an Exchange server: they won't be able to get at a mailbox that lives on your hard drive.
Outlook tips 9. Highlight mail sent to you only
The chances are that emails sent exclusively to you are the ones you need to work on first and the ones where you are CC'd with 30+ other recipients are less important. Outlook can help you spot these important messages immediately by formatting them differently.
This is a little more complex so we'll take you through it step by step:
Go to the View tab on the ribbon in your Outlook inbox.
Click View Settings in the Current View section.
Click on Conditional Formatting… (or Automatic Formatting).
Click the Add button.
Type "Me: sole recipient!" under Name:.Click Font… and choose the desired formatting. (You could make the font teal, for example, or use italics.)
Click OK.
Now click the Condition… button.
Make sure Where I am: is checked.
Select the only person on the To line from the drop-down menu.
Optionally, go to the More Choices tab and check Only items that are: unread to restrict special formatting to new messages.
Click OK.
Click OK again.
Click, yes, OK if prompted.
Outlook tip 10. "Post-it" notes
Press Ctrl+Shift+N from anywhere in the Outlook interface to create a new note, using Outlooks built-in sticky note feature. These notes can be dragged and positioned anywhere on the screen. By default, notes appear in pale yellow, but you can assign them to categories, which causes them to switch to the associated colour. To manage your notes, click on the Note icon at the bottom of the View pane: From here you can copy, organise and print notes, and search, via the field at the top-right of the window, for notes containing specific text.
Hopefully, some of these tips will save you time and help you to get more from Outlook.